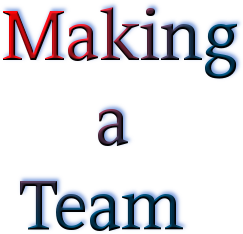 ---
Hello guys! This is Tifa here, and I'm going to explain how to simply make a team on our forums. Follow these easy steps below, and soon enough you'll have a team of your own to compete with, and treasure!
(Number 1)
A team has a minimum requirement of 3 active people. I cannot stress enough that you have a 4 Day Recruitment Time to get at least 3 people. Do not panic! You can try again after 24 Hours!
(Number 2)
In order for you to actually recruit for your team, you must post under the thread Team, which is the exact forum you're on right now! There is no limit to what you can do on your team thread, other than flashing images, and be respective to other teams.
(Number 3)
You must respect other teams! We are a very caring and giving community, and if you aren't a positive input upon this community, then you're highly unwanted.
---
That's as easy as it gets, isn't it? Although there are a few things I'd like to go over, such as what a Team actually is.

Teams are like groups or clubs that you and your friends can create, or join! Teams can participate in Tag Team Tournaments that occur once a month. The victory team will have their banner (if no banner is provided, text will be sufficed) featured at the top of the forum, and some prizes! (Nav Points, Pokemon, etc) It is a great way to get introduced to the forum by joining a team, so what's stopping you?
_________________
Din, the goddess of power and whom created the red earth, Nayru, the goddess of wisdom whom created time and law, and Farore, the goddess of courage and whom created all life forms in this world... The goddesses who made the vast land should be appreciated.
Admin




Posts

: 150


Join date

: 2012-01-05


Age

: 18




---
Permissions in this forum:
You
cannot
reply to topics in this forum